Digital Visitor Registration
Safe-In is a visitor registration system where the safety of your visitors comes first. With the help of many useful functions Safe-In helps you to ensure the safety of your guests. This makes Safe-In ideal for industrial locations.
Digital Visitor Registration
Your visitors can easily check in via the Safe-In portal. You can offer this with a smartphone, tablet, computer or touchscreen portal at the entrance of your location. This reduces the workload at the reception and allows your guests to read the instructions in peace.
Notifications
Your employees are automatically informed that their visit has arrived. The system automatically sends an email and / or an SMS notification as soon as the check-in process has been completed. Your employees will pick up their guester faster.
Safety First
With Safe-In, safety comes first. Our visitor registration system is equipped with various features which will improve the safety of your visitors at your location. For example, you can inform your visitors about the safety rules and quiz them to verify that they have understood this correctly. In case of an emergency you have an up-to-date overview of all attendees and you can easily send an SMS alert.
Features
Our visitor registration system is packed with lots of features.
App
Invitations
SMS notifications
Delivery notification
NDA signing
Multilingual
Instructions & Quiz
Time registration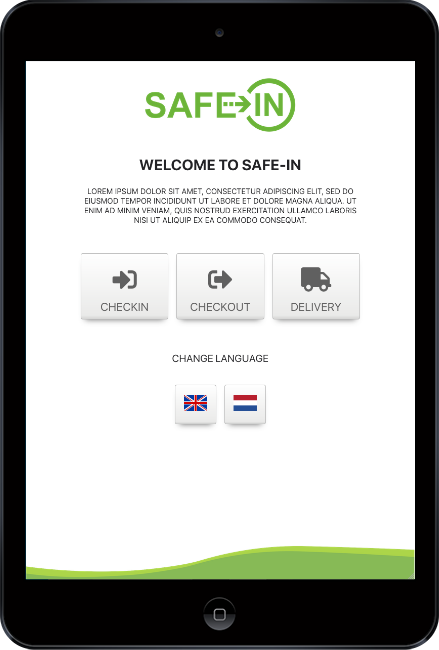 Check out our demo
Do you want to know how easy it is to use Safe-In? Then take a look at our online demo.
Contact us
Are you interested or do you have questions about our services? Do not hesitate and contact us. On working days we can be reached by telephone between 09.00 and 17.30. Our team is ready to answer your questions.
+31 (0)85 0600 700